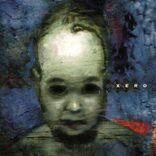 Xero was the name of Linkin Park, before they were Hybrid Theory. Originally consisting of three high school friends, Xero's foundation was anchored by Mike Shinoda and Brad Delson along with Rob Bourdon. After graduating from high school, the California natives began to take their musical interests more seriously, recruiting Joe Hahn, Dave "Phoenix" Farrell, and Mark Wakefield to perform in their band then titled Xero. Though limited in resources, the band began recording and producing songs within Shinoda's makeshift bedroom studio in 1996.There were two different covers for the tape with one being the baby, and the other a shopping cart. The shopping cart cover was scrapped after Joe and Mike collaborated on the actual cover. Tensions and frustration within the band grew after they failed to land a record deal, culminating in Wakefield's departure from the band in search for other projects. He would later become the manager for the band Taproot. Farrell also left the band to tour with Tasty Snax and other bands. However, he returned to the band in 2001, after Linkin Park's first studio album, Hybrid Theory, was released.
After spending a considerable time searching for Wakefield's replacement, Xero recruited Chester Bennington, the former vocalist of the band Grey Daze, which disbanded soon after he left.
Track Listing
Edit
Side A:
1. Rhinestone
2. Reading My Eyes

Side B:
1. Fuse
2. Stick N' Move

Other Songs (Not on the 1997 sample tape)
1. Drop 
2. Feinds
3. Stick n Move (Runaway Demo 1998)
4. Blue
5. Slip
6. Esual
7. PictureBoard
8. Coal
9. Ground Xero (Mark Wakefeild Demo)
External Links
Edit
Community content is available under
CC-BY-SA
unless otherwise noted.